What are BioMarkers?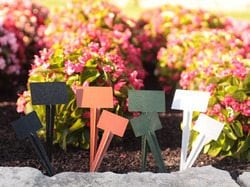 Biomarker™ Plant Markers by MCG BioComposites, LLC – Plant markers for the eco-friendly gardener in mind! Made with proprietary blend of biomass and recycled plastics that is stronger and more durable!Made with a proprietary blend of biomass and recycled plastic.
The original plant marker was produced as an experiment in late 2009 to use our first formulated BioComposites material, which was corn cobs and recycled high density polyethylene, as a way to demonstrate to potential customers that our material was truly capable of processing by injection molding and also a viable substitute for petroleum based virgin plastics.
After introducing the markers to the market, it didn't take long for them to be a real hit!
The labels are pressure sensitive, so they are easy to remove when they do start to wear out. They remain in place and readable through all kinds of weather, but when it's time to peel them off, they don't leave a residue. You just clean off the marker and apply another label.
The markers come in three sizes
9.25″ long, 1.875″ x 2.875″ with a straight marker area and flat marking surface
13″ long, 2.5″ x 4.0″ with an angled marker area and flat marking surface
24″ markers also with a 30-degree angled marking surface measuring 5″ x 4″
Tough BioMarkers will last many seasons.
Weatherproof labels available for laser printing or handwriting.
Made in USA!